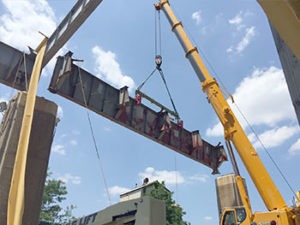 After a positive year of growth and change at LGH, we have put our businesses in the UK, Europe and the United States in a stronger position than ever before. We are truly ready to lift the world with our lifting solutions, serving a wide range of sectors from energy to infrastructure, construction to transport. But what are the prospects in these industries across the globe, and where are the opportunities for LGH to make a difference?
UK prospects
The UK has been through some turbulent times recently with Brexit and austerity dominating the agenda. However, with Brexit now set to happen on the 31st January, and a new government with a clear majority to get things done, things are likely to settle down somewhat. Furthermore, as the UK finally moves on from the long-reaching effects of the financial crash, experts are predicting growth in a number of areas in which LGH operates.
The Glenigan Construction industry Forecast predicts a 2% overall rise in the value of project starts in 2020 and a 5% rise next year. This includes an 8% rise in school construction and a 5% rise in other civil engineering projects, along with a significant rise in the health sector projects as a result of increased funding. The value of London office projects rose 16% in 2019 and this looks set to continue, while the hotel and hospitality sector is also predicted to increase by 1% in 2020 and 5% in 2021.
Prospects in the US
While the US will inevitably have a turbulent year with the presidential elections in November, the US economy continues to grow strongly, boosting construction across all areas of business. Significantly, in 2018, the US grew to become the world's largest producer of oil, generating 15.3m barrels a day. Deloitte has predicted big things for the industry in the next few years as production elsewhere has dropped, despite strong demand for oil and gas worldwide.
Experts predict a significant investment in oil and gas infrastructure to start the decade, from processing plants to pipelines, all of which will require LGH lifting solutions.
A trend to watch
One interesting trend to watch worldwide is the rising popularity of prefabricated and modular buildings. With construction costs rising and a significant shortage of skilled labour, pre-fabrication allows construction companies to maximise their time on site. Once seen as just a way of creating emergency housing fast, today modular construction is being used to create major structures, such as complete New York hotels. Each section is crafted off-site, away from the problems of access, weather and other local conditions, and then assembled on site in a fraction of the time of a traditional build. Naturally, lifting companies such as LGH have a major role to play in the movement and positioning of such components, and with the sector predicted to grow by 6.9% per year, this is an exciting opportunity for all our depots, especially in the United States.
Helping to cut costs
Despite the positive outlooks around the world, construction companies continue to face tough economic conditions. Rising material costs, stricter regulations and increasing staff costs mean that every penny counts. That's where LGH can really make a difference in 2020, with efficient, cost effective lifting solutions that save valuable time and money for our clients, helping them to keep their projects on time and on budget in the face of demanding deadlines.
On the whole, 2020 is looking very positive around the globe, and at LGH, we're looking forward to playing our part in lifting the world, safely and securely, with all the equipment and expertise our clients need.