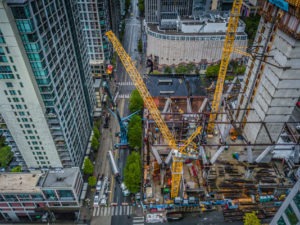 We may be in uncertain times, but it is fair to say that the rental market is strong and looks like staying that way for the foreseeable future. LGH managers in the UK, Europe and the US are all feeling confident about their prospects, with rental rates for rigging and lifting equipment looking buoyant particularly in the specialist areas in which LGH operates.
Lifting out of the crash
Ironically, it was the economic crash of 2008 that has left the rental market in such a robust position. Post-crash, companies are much more reluctant to take on the debt of outright purchase and prefer the more manageable costs of rental. As Thomas Caldaroni, Chief Financial Officer of Able Hire in the US, explained to International Rental News:
"When companies went through a downturn, they got caught holding a bag with debt. So the rental penetration in the US has grown substantially, and it still has room to grow. We're still in a growth market."
He shares LGH's optimism about the future, even in the face of current uncertainties. "Even if we take a pause this year, before the election, or have a slow-down after an 11-year expansion, I think rental will still have a pretty significant growth rate – probably in the 8-9% range."
Some US rental companies were reporting even higher growth rates for 2019, with United posting 16.2% overall growth and 26.8% growth in the kind of specialty markets served by LGH.
How LGH managers see the market
Across the globe, LGH managers are confident that the rental market will be unaffected by current uncertainties, and indeed may even benefit from them as companies are reluctant to invest in their own lifting equipment, preferring the lower risk path of renting instead.
LGH UK Managing Director, Colin Naylor, sees stability across a range of sectors that LGH serve: "In the UK, we haven't seen any sector that is more prominent than any other.  Most sectors are generally active, and we are experiencing regional hotspots rather than sector specific peaks."
In the EU, a range of major infrastructure projects are driving the rental market, as Edwin Boelens, Sales and Marketing Manager for LGH EU explains: "In the EU, there is a huge demand for heavier lifting equipment mainly due to significant government programs running in Western Europe. We have also seen an increase from the marine sector and a slight pickup in the offshore market."
Even in the US, where election year always leaves businesses feeling cautious, demand remains strong. "For LGH US, infrastructure has shown a big increase in overall demand," says LGH USA Business Sales Manager, Dan Pittman. "The steel industry has also made a comeback in the United States market as well, with both sectors requiring heavier lifting equipment."
More than just rental
There is much more to the growth of the rental market than companies' fear of debt, as American Rental Association Chief Economist, John McClelland, explained in his presentation to their recent annual conference: "Equipment rental companies have become problem-solving companies, helping customers make more efficient business decisions (as well as) reducing the uncertainty that comes with making large capital investments in lifting equipment.
At LGH, this level of expertise is at the heart of our service. Global connectivity and the sharing of best practice means that our clients are able to call on the experience not only of their local depot, but also their colleagues nationwide and even across the world.
Challenging times ahead
With the US election looming large in the States, and all manner of uncertainty regarding the economic impacts of coronavirus on both sides of the Atlantic, there are sure to be challenging times ahead. Nonetheless, at LGH we are confident that following our recent reorganisation, we now have the right structures, the right lifting equipment and the right client offering to not only survive but to thrive in the months to come.
We look forward to helping industries of all kinds with the very latest, most innovative lifting equipment provided by one of the most experienced and expert teams in the industry.