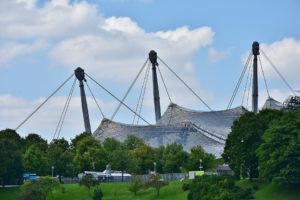 As anyone who regularly attends, or watches, major sporting events will know, modern stadiums have come a long way since the old days of ugly concrete stands and corrugated iron roofs. Today, stadium construction are often works of architectural art, with striking designs, luxury facilities and state of the art technology, all created using specialist lifting equipment.
Across the globe there are many examples of these spectacular stadiums such as, the magnificent Allianz Arena in Munich, with its colour-changing outer skin, Wembley Stadium in London, and the iconic AT & T Stadium in Texas.
Building for the future
Sports stadia are often inspired by the huge range of future events on the timetables. For example, the brand-new Ferenc Pukas Stadium in Budapest has been designed and built as one of the 12 venues for football's Euro 2020 Championship. The stadium, scheduled to be completed by the end of 2019, has been constructed using 15 huge, specialist tower cranes working in synch with each other to lift its huge roof joists, weighing up to 138 tonnes each, meaning specialist lifting equipment had to be used.
Further football building work is continuing in the Middle East as Qatar prepares for the World Cup in 2022, while in the UK, Tottenham Hotspur are making themselves at home in their £800m, 61,599 seater stadium, which was built using hundreds of glass panels, each precision lifted into place by the latest crane and hoist technology.
Stadium refurbishments
Of course, you don't have to knock down and rebuild to bring your stadium into the 21st century, as Bundesliga side, Schalke 04, proved when they upgraded their LED video cube to give fans a better matchday experience. LGH were happy to help with the complex task of lowering the existing LED unit and raising the new 216 module cube into place with their specialist lifting equipment.
The frame for what would be the largest LED cube in Europe, had to be lifted without tensioning, making the 30tonne lift a highly specialist exercise which utilised LGH's experience and expertise to complete. A carefully calculated combination of load spreading beams, clamps and slings were used to move the frame exactly as required, helping to create a huge new feature at the football club.
Constantly improving
With major sporting events coming round on a regular basis, such as the Olympics in Japan in 2020 and Paris in 2024, and state-side events, such as the Superbowl and the World Series, taking place every year, the demand for new, exciting and inspiring venues is set to continue for a long time to come.
Lifting the world with Lifting Equipment
Whoever you support, you can be sure that LGH will be at the heart of the action, supporting everything from new screens to roof beams, to lift your sporting enjoyment to a whole new level with their stadium construction.